Digital Signage
for Better Communications
With 20+ years of experience and 4000+ systems delivered, Visix digital signage lets you send messages, media and alerts that reach everyone, everywhere, every time.
Get a Free Estimate
You can also call us at 800.572.4935
Everything You Need to Communicate Better
Deliver dynamic visual communications to attract attention and motivate digital signage viewers.
Visix offers a unified digital signage solution for every part of your business with a three-pronged approach to engagement:
Visix Digital Signage Solutions
Whether you're planning a single electronic display in your lobby, or digital displays across a global enterprise,
we can help you break through the clutter for better communications
Contact us so we can show you a more thorough demo and step through your specific needs.
Create Exceptional Experiences for Your Audience
Organizations of all kinds are using digital signage powered by Visix to grab attention, deliver critical updates, improve the customer experience, impress visitors
and motivate staff in everything from offices to retail to healthcare to schools.
Internal Communications
Publish messages, videos, media and alerts on electronic signage, webpages, and Android and iOS mobile devices to reach your audience wherever they are.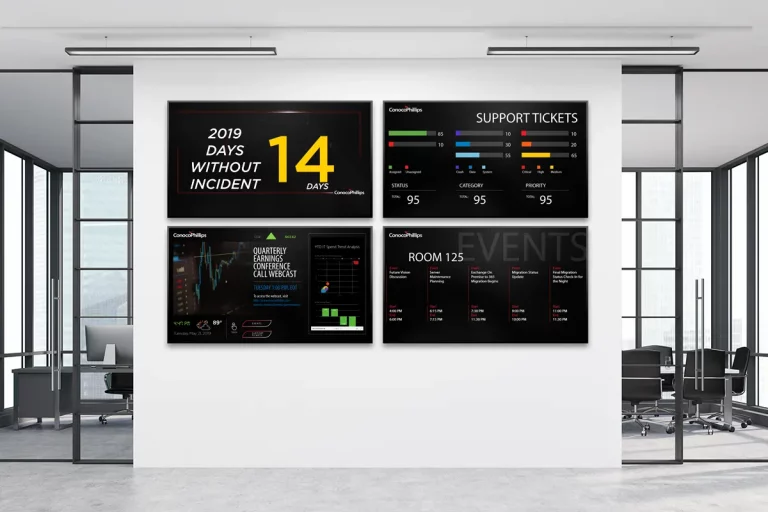 Executive Management
Boost productivity and drive change with realtime data and messaging on digital signage for higher employee engagement and bottom-line results.
IT & Networking
Easily deploy our scalable and secure content management platform, whether it's software-only, pre-imaged PCs or hosted in the cloud.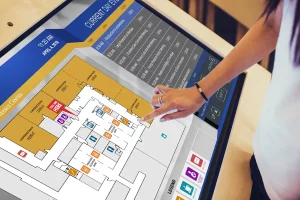 Facilities Management
Unify your visual messaging, alert systems and room management into a single platform to improve the employee and visitor experience.
Our Platform. Our Promise.
Visix is the OG of digital signage, in business since 1980 with over 20 years of selling and supporting content management software, and one of the highest customer satisfaction ratings in the business.
We want to make sure your team has all the tools they need to communicate better, so Visix specialists will walk you through every step of your digital signage strategy, from concept to completion, offering the utmost in customer support.
We provide everything you need for success, including software, hardware, hosting, creative, consulting, training and tech support. Visix also partners with a vast network of AV integrators and IT VARs to provide our clients with end-to-end system services.
Find out why 4000+ clients and 1000+ campuses trust Visix to power their digital signage systems. Contact us to find out how we can help you communicate better through video, signage, media, images – whatever you want to show!
Deliver Enterprise Communications
We offer digital signage solutions for any industry with a passion for communications.
Find out how digital signage can make a difference in your industry.
Benefits of Digital Signage
The beauty of digital signage lies in its versatility. When you invest in electronic signage for your business,
you're able to tap into numerous benefits and advantages, including
When you add all of these benefits together, it's easy to see just how powerful digital signage is. Get started today!
What is Digital Signage? Frequently Asked Questions