Epaper Desk Signs
Visix understands the challenges of managing shared spaces in a flexible workplace and can help. Our epaper desk sign shows reservations for hot desking, desk hoteling and other coworking spaces in hybrid offices.
Show desk availability and upcoming reservations right at the workspace
Easily mount on desks, workstations, partitions, walls and glass
Affordable, wireless and battery-powered for three years or more
Display QR codes to let people book and check in at the sign
Black, red and white ink for onscreen text, logos, QR codes, etc.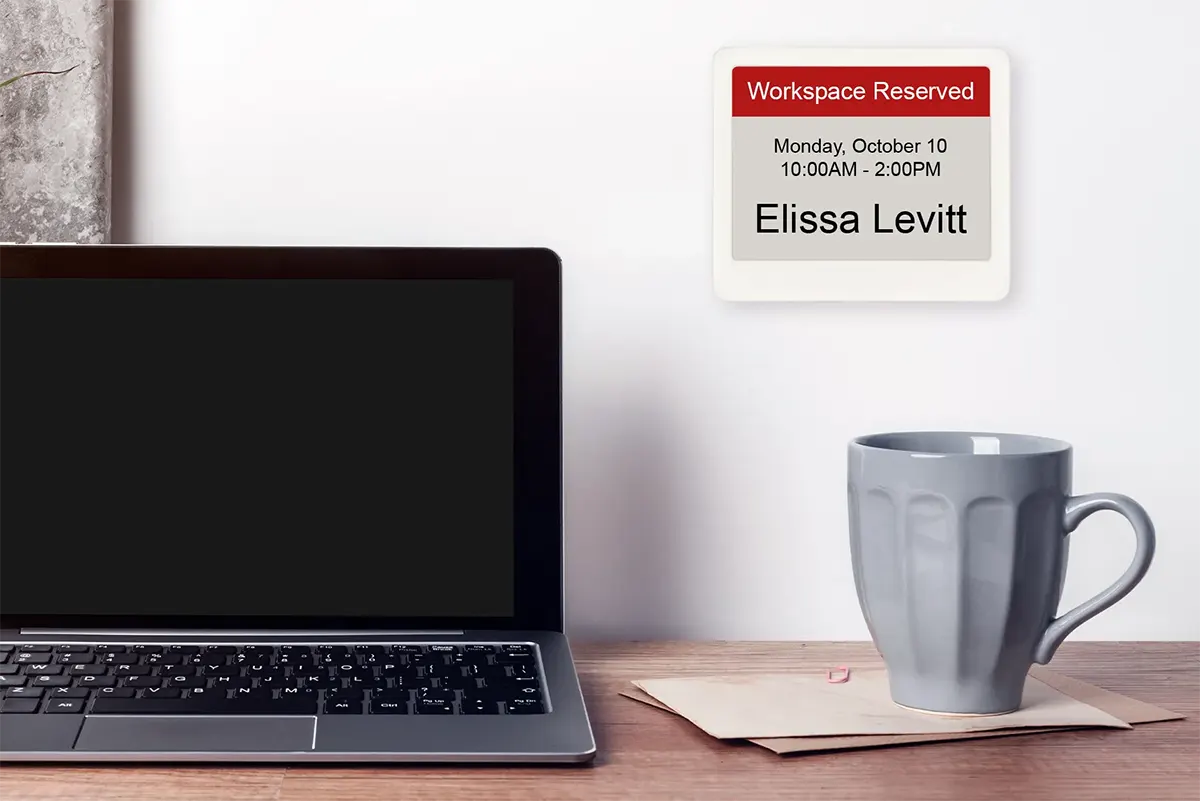 ---
Office Hoteling
Show real-time desk reservations to let employees see if a workspace is free or reserved, and quickly locate their neighborhoods and teammates.
BYOD Solutions
Reduce unnecessary contact, and let people use their own personal devices to book and check in with QR codes on screens.
Flexible Mounting
Our desk signs weigh ounces, so you can put them anywhere – hot desks, hoteling desks, hoteling workstations, any hoteling workspace.
No Cables
These wireless e ink signs are updated via RF and are battery-powered, so there are no holes to drill or cables to pull.
Energy Efficient
Epaper desk signs only use power when they update onscreen info, so batteries last an average of three years or 10,000 updates.
Green Technology
Support sustainability efforts by getting rid of printed schedules and sticky notes. Save time, money and waste by going digital.
---
Smart Booking
You're probably already using a calendar app to manage your meeting and conference room reservations. Why not extend those efficiencies to every desk, workspace and other shared space in your facility?
Our epaper desk signs don't require special booking software. Use your existing calendar app to let employees reserve spaces in advance, or offer QR codes that tie back to your scheduling software so they can book on the fly.
If you're using Tango's Reserve by AgilQuest, you can let people check in at the desk sign and track utilization with powerful analytics to help better manage shared spaces.
Easy Setup
EPS desk signs are small and lightweight, so you can put them anywhere. Using simple 3M Command Strips, you can mount them on desks, workstations, partitions, walls and glass. Because they're wireless, installation takes just minutes.
Once the system is set up, it will sync with your calendar app and update signs in a flash. After that, the signs will automatically update with the latest bookings and screen data. And since epaper desk signs only use power when they update, you won't have to change batteries for years.
EPS 42 desk signs can be used alongside other Visix room signs and digital signage products, or as a completely stand-alone solution.
Specifications
EPS 42
Sign
Display size: 3.3″ x 2.5″
Resolution: 400 x 300
Orientation: Portrait or Landscape
Dimensions: 3.9″w x 3.3″h x 0.5″d
Weight: 3 oz.
Power: 4 ea. CR2450 batteries
Mounting: 3M Command Strips
Faceplate: No frame included; custom faceplates available
EPS RF Transmitter
Dimensions: : 6.2″w x 4.5″l x 1.4″h
Power: 1 x 10/100Mbit Ethernet port, Industry standard IEEE 802.3af PoE specification; 1 x DC power input (optional)
RF Communication: IEEC 802.15.4a compliant
RF Frequency: 915MHz ISM Band 2-way wireless
LEDs: Power, connection and Ethernet activity
Mounting: Integrated Wall/Ceiling Mount
Note: Conference and EPS Management applications require a PC running Windows Server 2016 or better and 8GB memory.
Onscreen Options
Whether you want to show workspace labels, tenant names, reservation times, QR codes, or logos and branding, our EPS desk signs are fully customizable.
We offer an array of screen templates in both landscape and portrait orientations to get you started, or you can design your epaper screen layouts in our software. Use black, red and white ink for onscreen text and graphics to make them stand out. If you need some design assistance, our creative team is here to help.
Personalized Desk Signs
Why not make it easier for people to find the workspace they've booked? Our epaper desk signs already have a modern, elegant bezel, but custom architectural surrounds are also available with custom graphics and labeling.
We can provide templates to choose from or you can completely customize your faceplates from scratch to match your brand or décor.
RETHINK YOUR SPACE
Don't limit yourself to hoteling office space and office desk signs. Just about any space can be part of a hoteling system in a flexible workplace. Book hot desks, touchdown areas, huddle rooms, collab spaces, even a ping pong table. Any part of an activity-based or agile workplace can benefit from custom desk signs.