Digital Signage Products
Expand your reach with Visix digital signage solutions.
Show dynamic messages on screens of all sizes, invite interaction with touchscreens, and manage meeting spaces more effectively.
With our enterprise digital signage products, you can reach everyone in your workforce – as well as students, visitors and guests – to encourage collaboration, promote safety, recognize achievement and motivate action.
Our software, interactive designs and room signs help you engage your audience so your digital signs can make a difference.
---
Digital Signage Software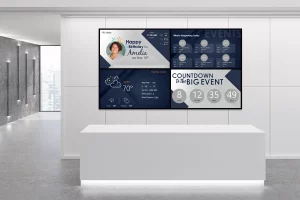 Our award-winning AxisTV Signage Suite content management software lets you create, manage and deliver stunning visuals, updated news and real-time data across your organization. It's simple to publish to digital signs, video walls, interactive kiosks and more.
Digital Signage Players
Choose from cloud subscriptions, software-only or on-premise digital signage solutions from Visix. Use your own hardware to power your system, or we can provide a content manager and as many media players as you need for a total turnkey package.
Content Solutions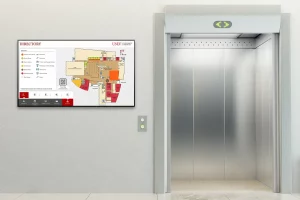 Improve the audience experience with stunning screen designs, curated content, interactive wayfinding and custom designs from our award-winning team of artists. Engage and inform your viewers at the same time with our beautiful content solutions.
WHAT WE DO
Visix offers complete digital signage solutions – from the lobby to the lunchroom, the classroom to the conference center. Everything we do helps our clients communicate better with their audiences to enhance engagement, motivate change and increase efficiencies.