How It Works
Our digital signage apps give you easy, innovative tools to create, customize and deliver a constant flow of beautiful, engaging content.
Our dynamic apps and widgets make creating compelling content fast and easy, and our scheduling and playback tools take the burden off signage managers. Real-time automated feeds and robust data-mapping tools ensure you have a steady flow of fresh and relevant content to keep audiences engaged.
Design and schedule in just seconds using three easy, powerful digital signage apps:
AxisTV Design, the desktop design app
AxisTV Manage, the content management system (CMS)
AxisTV Engage, the playback engine
---
AxisTV Design™
Design custom content
on your desktop
Start with stock content bundles in our desktop designer to create custom messages, templates and layouts your whole team can access in the CMS. Design offline and sync when you're ready.
AxisTV Manage™
Create, Manage & Deliver
in the Browser
Choose from 900+ templates or drag-n-drop media into playlists. Manage players, users and playlists, and use our easy scheduler to show messages wherever and whenever you choose.
AxisTV Engage™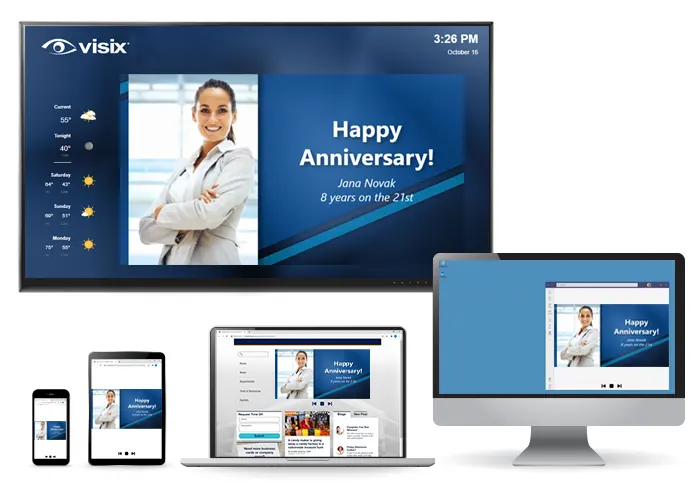 Engage viewers
wherever they are
Publish playlists to displays, touchscreens, video walls and room signs across your organization. Let remote audiences view your playlists on personal devices via webpages or URL links.
AxisTV Manage™ | Content Management System
Our CMS lets you create, manage and schedule content right in the web UI.
Quickly import media files and artwork, manage and schedule message and layout playlists, choose playback transitions, and manage user permissions.
Watch a quick demo video of AxisTV Manage
Quick scheduler for lots of different media and message types
Choose from 900+ stock message templates
Event, news, weather and fill-in messages are ready for scheduling in the CMS
Import and manage artwork in searchable categories and subfolders
Design custom fill-in-the-blank templates right in the CMS
See player snapshots for quick reference of what's playing on screens
Search and filter using keywords, file types, aspect ratios and more
Schedule messages and layouts using advanced dayparting options
Use easy drag-n-drop to add media files and reorder items in playlists
Publish HTML5 playlists to engage remote audiences on any screen size
Use Single Sign On with SAML 2.0 to manage user access
Take advantage of multi-language support for content managers
Group players, users and rights by organizations and suborganizations
View, filter and download analytics for messages, playlists and users
Manage PC players for screens and HTML5 playlists on webpages
Choose from cloud or on-premise, with subscriptions and perpetual licenses
AxisTV Design™ | Content Designer
AxisTV Design gives you an intuitive, powerful design app for creating messages, templates and screen layouts outside the CMS.
Simply drag and drop design elements onto the canvas. Our data widgets let you place and format dynamic data from calendars, Excel, XML, JSON and more.
Drag-n-drop widgets make building layouts, messages and templates easy
Start designing from our stock layouts or use fill-in signage kits
Work faster with guides and rulers with snap, and flexible workspace sizing
Point to a network folder to automatically pull images and videos into layouts
Data widgets pull from sources like weather, Excel, XML and JSON
Easily integrate with calendar apps like Exchange, EMS and Google and more
Use conditional logic with widgets for "if then, show this" scenarios
Include interactive hot spots or a voice user interface for any display
Add multiple playlists to zones and choose the playback order
Backgrounds, zones, artwork and widgets can be layered with opacity
Full transparency is supported, and message backgrounds are optional
Preview layouts, messages and individual widgets before you publish
Download free stock content from the Visix Store to get up and running as quickly as possible. You can also purchase and download content created by our award-winning designers in the store using an easy authorization code.
Watch a quick demo video of AxisTV Design
View sample layout playback using AxisTV Engage
AxisTV Engage™ | Signage Player
Our AxisTV Engage player software includes adjustable opacity, multi-layer Z-order and professional grade typography tools for a superior creative and playback experience.
Brings message and layout designs to life
Delivers broadcast quality with adjustable opacity in multi-layered zones
Uses 3D transitions and animated content to grab attention
Supports video backgrounds and message animations
Text generation engine supports elaborate typographical designs
AxisTV Alert™ | CAP Notifications
Our stand-alone alerting platform can be used alongside any digital signage content management solution, including AxisTV Signage Suite. It gives you time-saving workflows to deliver important updates and critical alerts across your digital signage system. The platform isn't cluttered with non-alert items, and is streamlined to make publishing alerts fast and easy.
Works with any digital signage content management solution
Built around Common Alerting Protocol (CAP) standards
Integrates with third-party suites like Alertus, Everbridge and Rave Mobile Safety
---
Streamlined Signage
AxisTV Signage Suite gives you the full power of our entire digital signage software application bundle (Design, Manage, Engage).
You can choose from software-only, pre-imaged hardware, or a hosted cloud solution.
Craft gorgeous messages, fill-in templates and screen layouts in our powerful Design desktop app. You can create your designs offline and sync to the CMS when you're ready.
Quickly import and schedule media and messages to playlists in our Manage (CMS) web interface. Use dayparting options and set end times so messages automatically retire from playlists.
Create content on the fly by filling in templates right in the CMS web interface. Templates support text, images and video for a quick and easy way to create messages on the fly.
Choose what to display where by mapping playlists to media players and HTML5 playlists. You can mix playlists together on screen to combine content from different departments.
WE'RE HERE TO HELP
Let our experts help bring your story to life. We can help with everything from content and campaign planning to daily tasks like artwork and playlist management. If you need creative help, our award-winning team of artists can craft custom designs for all of your digital signs.