Award-Winning Digital Signage Software
AxisTV Signage Suite digital signage software gives you easy, powerful tools to deliver visual communications that connect and engage your viewers wherever they are.
Our content management system gives you a vast array of content sources, smart playlists, flexible scheduling and multi-user licenses to attract viewers, connect people and drive results. Deliver 100+ media types like messages, countdowns, videos, alerts, real-time data and event schedules.
Watch our short demo video
---
WELL DESIGNED
Software with a focus on engagement, data integration and user experience
ENTERPRISE CMS
An integrated, enterprise solution to centralize your visual communications in one app
USER FRIENDLY
Our intuitive UI lets you craft messages, schedule media and broadcast alerts quickly
DEDICATED TEAM
From training to design to tech help – we're here to help you communicate better
CLOUD OPTIONS
Choose from cloud hosting, software-only or bundled hardware solutions
BROAD REACH
Reach remote employees with playlists on websites, intranets, desktops & mobiles
---
Enterprise Digital Signage Solutions
To communicate effectively with your audience, you need to do more than simply post news on screen. You need stunning visuals and info-rich immersive experiences that connect viewers with your message.
With Visix digital signage software, you can manage all of your visual communications from a single, centralized point while allowing individuals and groups to choose their level of participation. And you're not tied to a desktop – you can manage your content from any device with web access so more people can contribute.
Craft visual communications to capture attention, increase engagement and reach more people using friendly workflows and elegant design tools for content customized to your audience, whenever and wherever they are.
What people say about our digital signage software…
Cardinal Glass Industries
"Visix software is outstanding, and their training and technical personnel are second to none."
Constellium Rolled Products Ravenswood, LLC
"Great company to work with. Their support has been outstanding, and their product works as designed. Up and running from scratch in no time."
Federal Reserve Bank of Kansas City
"It's always a pleasure to work with Visix support. Very knowledgeable, friendly and most of all, efficient."
MEG Energy
"Visix sets the standard rarely seen in support. The team is both knowledgeable and professional. Issues are dealt with swiftly – better yet, they rarely occur."
Goodwin College
"The ease of use and control we have over the system, combined with the speed at which messages can be displayed, makes Visix a tremendous solution for digital signage."
Queens College
"It's just a well thought out, rock solid product."
University of Kentucky
"The scheduling ability is great. Once it's up, we don't have to touch it again."
Univerity of Wisconsin Oshkosh
"It has made my work easier, it has made our communications more effective and it has made us a lot greener. AxisTV really has exceeded my expectations."
Carolinas Healthcare System
"The response is rapid – we can send out messages almost immediately, and the scope is very wide. It's also an extremely flexible system."
Franklin County Board of Supervisors
"The dynamic nature of it, and the simplicity from a technology point of view, really makes this a great system for our needs."
Hamilton Health Care System
"It's easy to use and, being web-based, it's easily accessible from anywhere. You can change and update content pretty effortlessly."
Oscar G. Johnson VA Medical Center
"It's a great way to get information in front of our patients – there's a better chance they will see it than on a old-fashioned bulletin board…We've seen increased participation in clinics and activities."
Signage for the Digital Workplace
Our platform is flexible enough to fit every budget and industry, whether you want easy day-to-day communications using simple slides or deep data dives with customized data integration and visualizations on screens.
Manage playlists and schedules from any web browser
Choose from 900+ fill-in templates in the CMS for quick messaging
Drag media files directly into playlists for faster scheduling
Use drag-n-drop widgets to design messages, templates and layouts
Feed playlists with media files managed in a shared network folder
Customize data display from calendars, Excel, XML, JSON and more
Include interactive hot spots or a voice user interface
Publish to HTML5 playlists for webpages, email and mobiles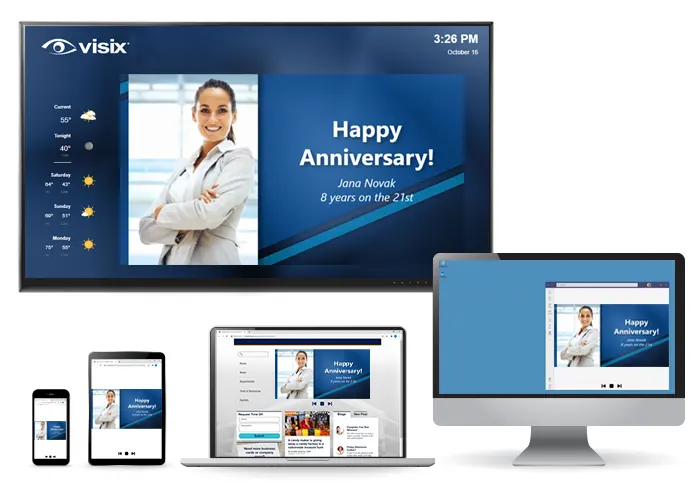 Reach the Right People with the Right Message Wherever They Are
You communicate with multiple audiences both onsite and off, so you need a digital signage system that's easy, accessible and scalable enough to connect people and ideas across your entire organization.
Whether you're messaging to just one screen, to locations around the globe, or in a hybrid workplace, our digital signage software gives you tools to create stunning visual communications for higher engagement, morale and motivation.
Amplify your communications to reach employees, students and visitors wherever they are with consistent messaging across digital signs, touchscreens, video walls and room signs on site, and send playlists to webpages, intranets, desktops and mobiles.
Intuitive User Management
Let more people contribute content without cluttering your user management. Organize users into organizations and sub-organizations in our CMS. Group users by departments, locations, teams or privileges.
Powerful Data Integration Tools
We offer more data presentation options than anyone else. Pull info from your data sources and make on-screen data visualizations even more powerful using conditional logic tools ("if this, show that").
Affordable, Ready-Made Content
Don't have the time to create content from scratch? Our signage design experts have created an array of artwork packs and content kits to help you get started. We also offer content subscriptions for as low as 33 cents a day.