Visix Booth 2942 | InfoComm 2023
June 14-16, 2023 | Orange County Convention Center | Orlando, FL
---
Communication & Collaboration: Hand in Hand
As more organizations move toward a hybrid office model, we're adapting our technologies and services to match flexible work needs. We're here to help you improve both communication and collaboration in your workplace or on your campus.
Our digital signage software and creative designs let you engage and communicate with employees, students and customers inside and outside of the office, while our space booking solutions give you lots of options to show schedules, book rooms and manage shared spaces.
Scroll down to learn more about what we're showing at IC23:
Choros AR Booking: space booking on a phone with no app to download
EPS 42 Epaper desk signs: show reservations for any shared space
Epaper & Interactive Room Signs: three ways to show room schedules
Free VIP exhibit hall pass: grab free snacks and drinks at the show
BrightSign player support: affordable playback options added to our lineup
AxisTV Signage Suite CMS: lots of new features and enhancements
Interactive wayfinding, directories, donor boards and more
---
NEW: Choros AR Space Booking
We'll unveil our new Choros space booking platform at IC23. This disruptive new technology supplants room signs by letting users book spaces using the camera on their smartphones without an app, saving the considerable cost and installation workload associated with room sign deployments.
Get all the features of a room sign without the expense
No special hardware required; no apps to download
Let people book spaces using their own device (BYOD)
Uses native AR smartphone tech and simple QR codes
See availability, schedules, capacity, amenities and more
Book, extend and end reservations on your smartphone
Search for and book other available spaces on the spot
Eliminate slow webpage and app authentication services
Integrates seamlessly with Office 365 to avoid double bookings
Reduce waste and energy consumption for sustainability
---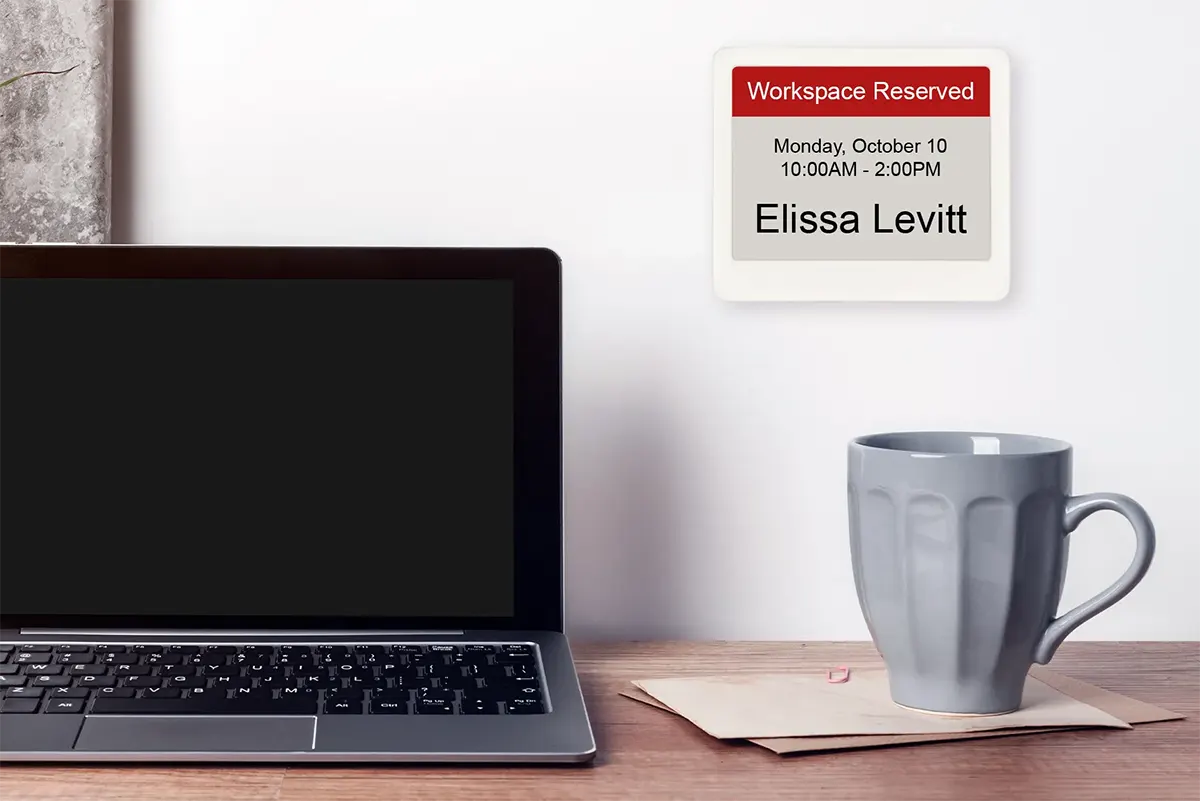 NEW: EPS 42 Epaper Desk Sign
We'll demo our EPS 42 epaper desk sign for the first time at InfoComm 2023. This pocket-sized E Ink sign is a convenient, affordable solution to show reservations for any shared space in hybrid offices.
Show desk availability and upcoming reservations right at the workspace
Easily mount on desks, workstations, partitions, walls and glass
Affordable, wireless and battery-powered for three years or more
Display QR codes to let people book and check in at the sign
Black, red and white ink for onscreen text, logos, QR codes, etc.
See just how adaptable these small screens are in booth 2942!
---
Three Ways to Show Schedules
Take control of your shared spaces. Our epaper and interactive signs let you manage spaces more effectively by showing reservations from your own booking system. Whether you're looking to display desk reservations and room schedules, or want to deploy a fully interactive room sign solution, we've got you covered.
Get a walkthrough of all of our room signs in booth 2942 at InfoComm 2023!
EPS
Our electronic paper signs are the most cost-effective option to display current schedules outside your shared spaces.
Connect
Our interactive room signs give you a feature-rich, cost-effective scheduling solution that doesn't require our CMS.
Touch
Extend your digital signage to meeting areas and customize the display of your event data on these interactive signs.
Free Stuff
Register for InfoComm using VIP code VIS465 for a FREE exhibit hall pass June 14-16.
Be sure to stop by Visix booth 2942 to say hello and grab free coffee, water, soft drinks and snacks throughout the event.
NEW: Support for BrightSign Players
We'll preview AxisTV Signage Suite support for BrightSign players at IC23. The upcoming release of our AxisTV Signage Suite digital signage software lets clients design and publish presentations for BrightSign players from within our CMS, making it even easier to launch and expand digital signage deployments.
Affordable, reliable players added to the Visix ecosystem
Support for BrightSign Series 5, Series 4, HD, XD and XT players
Easily provisioned using BSN.cloud Control Cloud
Seamless playback of landscape and portrait designs in multiple aspect ratios
Can mix BrightSign and Visix players in the same deployment
Stop by booth 2942 to see BrightSign playback in action!
---
AxisTV Signage Suite v.1.65
See the latest release of our enterprise digital signage software with enhanced data integration and visualization options, analytics and more.
CBORD widget to pull and display data from NetMenu
New and improved webpage and web image widgets
Expanded display and two-way booking options for calendar widgets
Support for Everbridge CAP RSS feeds for alerts
Expanded SAML options for cloud clients
Announcements hub for admin messaging to designers
HTML5 publisher to reach remote employees and students
Designer, UI and workflow enhancements
Come to InfoComm booth 2942 to get a quick demo of new features!
---
Award-Winning Interactive
We'll show off some of our award-winning interactive designs at IC23. Our designers can craft interactive experiences inside AxisTV Signage Suite software, from affordable templated packages or as custom HTML5 projects. Let us create an immersive experience for your audience.
Wayfinding, directories, alumni boards and more
SMS options for sending directions to phones
QR codes to view the entire interactive project in your hand
Touch and voice interfaces for contactless/ADA interaction
Easy updates via web-based directories
Interact with our award-winning touchscreen designs in booth 2942!